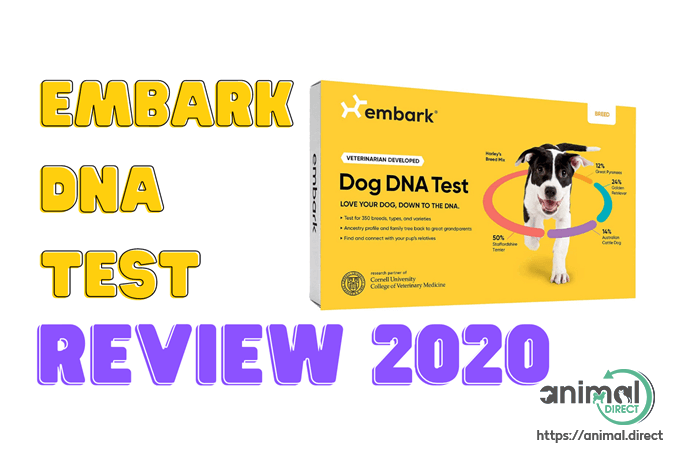 Embark DNA Test
Are you planning on breeding your dog sometime soon? Or do you want to know what breed your mixed furry friend belongs to? Or do you want to adjust your care routine according to your dog's breed? Well, in either case, what you need are dog DNA tests to help you with your queries.

When it comes to your pet, you only want what's the best right? So, when opting to purchase a DNA test for your dog, choose Embark for highly accurate results. The Embark DNA test works with 200,000 genetic markers so that you know everything there is to learn about your pet. 

Their research-grade genotyping platform helps break down the most accurate dog breed among 350 varieties; this makes the DNA kit stand out.
Thanks to the Breed Mix Match feature, this provides a complete family tree and lets you compare your dog's progress and traits to other dogs with a similar breed mix. Get connected with them anytime to receive daily updates from the comfort of your home through emails and live chat support.

Ranking on the top in its range, Embark comes with a health feature that lets you unravel a complete report on your dog's physical attributes. Additionally, this report is supervised by veterinary experts for any persisting genetic health conditions or risks your dog might have, in which case, they contact you immediately.

Plus, you can upgrade to a Breed + Health feature to know more about your dog's physical traits, and if your dog is still a pup, what attributes to expect of it in the future. It also lets you know the average growth rate to help you track your puppy's progress.

Embark also provides another particular attribute that is unique to its brand. It comes with a relative finder feature to help you connect with other dogs that have tested on Embark, that share your pet's DNA. Almost most dogs have undergone Embark and found their DNA relative, and that too close as a first cousin! Plus, this service is only available on Embark as of now.

Above all, their test is easy to take and only requires a simple cheek swab with results available online in 3 to 5 weeks. 
And to further solidify your inclination towards Embark, they also have raving 5-star reviews to prove their quality and genuineness.

They might seem pricier than other DNA tests, but fine quality always does come at a price. Don't let the price budge you, and when looking for the optimal DNA test for your dog, go with the best one and choose Embark!
Exact genetic breed results by working with up to 200,000 genetic markers.
Comes with the relative finder feature
Health report provided along with veterinary consultations.
Easy and swift testing
Live chat or email available to help interpret results
Expensive than most other DNA tests
Requires upgrading to unlock health features
Results may seem complicated in a few cases