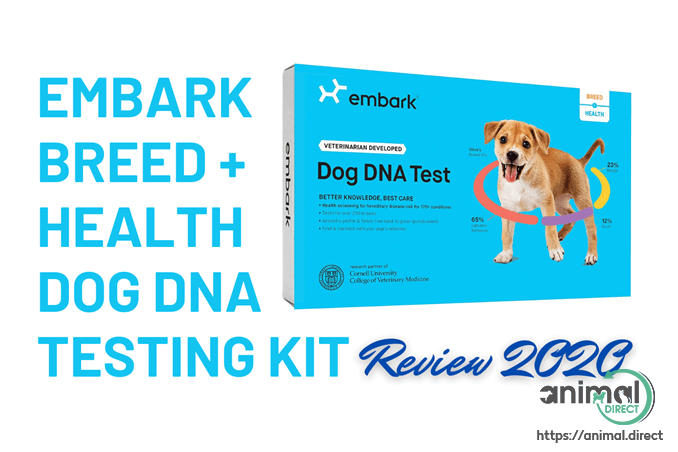 Embark Breed + Health Dog DNA
Do you own a mixed dog and are unaware of its breed? Or is your dog showing some characteristics that you think identify with a genetic disease? Or are you merely planning to breed your dog and would like to know the genetic makeup your pup carries? In any of the above cases, what you need is a dog DNA test to guide you.

The Embark Breed + Health dog DNA test provides a detailed and accurate result after screening your dog for over 350 breeds and varieties and 200,000 genetic markers. The breed ID will help you adapt your dog's care routine according to its requirements.

The Embark Breed + Health kit significantly differs from other dog DNA tests of its range. This kit is more inclined towards health screening. It checks your dog's DNA for more than 190 inherited genetic traits and diseases like MDR1, glaucoma, degenerative myelopathy, along with few other severe conditions like dilated cardiomyopathy.

It also screens for a few onset diseases that might develop in adult dogs. And they immediately contact you in case your dog is carrying a life-threatening illness or is a carrier to a genetic disorder that might be harmful to its pups. This way, you can be assured your dog is at no risk of a hidden disease and will live a healthy and happy life.

Embark is also the most top-ranked dog DNA test in the market due to its fast and reliable results. Embark is the only DNA test that partners with the Cornell University of Veterinary Medicine to bring you accurate testing results. It is the most trusted among veterinary hospitals.

Embark also lets you contribute to the greater good by contributing your dog's DNA to science. They require you to fill out a survey about your dog's behavior pattern and routine, which is quite fun to do, to further help in their studies. Information, your vet told you, like a predisposition to specific drug sensitivity, can be quite helpful. Your pet's DNA might have the potential to save a life. You wouldn't want to miss out on that now, would you?
They also include a physical report that is helpful if your dog is a pup, as it will let you know what to expect and the average growth rate to let you track your pup's progress. The Mix and Match option also enables you to check other dogs that have a similar breed mix to your dog.

Embark also has a unique Relative Finder feature that is unique to its brand. This feature lets you locate other dogs who share your dog's DNA, who have also tested on Embark. This way, your dog has a chance to find his family.

The Embark Breed + Health kit might seem a bit more expensive than other kits of its range. However, it is arguably the best one in the market. So, if you choose to buy a DNA test for your dog, go all out, make the best choice, and choose Embark.
Accurate results with breed testing for over 350 varieties and 200,000 genetic markers
Health screening for over 190 genetic diseases
Easy to perform and fast results too
Comes with the Relative Finder feature
Relatively expensive choice
Results might seem complex