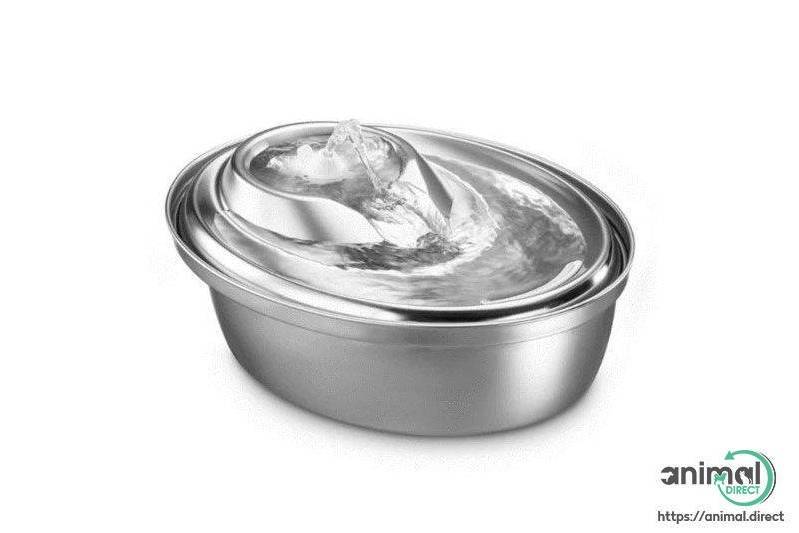 WOPET Stainless Steel Fountain
To keep its body healthy, the dog needs to stay hydrated all the time, especially in hot weather, when the temperature is too high outside. The WOpet Brook Stainless Steel Pet Drinking Fountain is an attractive way to drink water compared to regular drinking water bowls.
This drinking fountain provides your furball with a cleaner, safer, and more continuous flow of water. Dogs are very sensitive; they do not like to drink water that remains still for hours or days; they prefer a source of fresh and clean water throughout the day. Its extra-large drinking area increases the flow of oxygen in the water, which keeps your pet healthy.
This drinking fountain also increases your dog's drinking habits by offering pure, dirt-free water. It has a carbon filter that can remove dirt, hair, and food particles from the water. It also saves you time emptying and cleaning the water bowls.
Key features
It is designed in such a way that if you go on a trip, it can provide enough water for two weeks.
It has a silent pump that can run day and night without distracting your pet.
Its stainless steel design makes it safer for your pet than plastic bowls.
Its water filtration system removes dirt and debris from the water.
Super silent pump
Purify the water
Large capacity
Easy cleaning
Some assembly required for use and cleaning
The filter may need changing