Yorkshire Terrier for sale in USA | Animal Direct
FACTS ABOUT THE YORKSHIRE TERRIER DOG BREED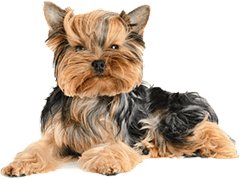 The Yorkshire Terrier is one of the smallest dog breeds in the Terrier family. The breed shares the name of a place (Yorkshire) in England, where it was created.

The Yorkshire Terrier, also called the Yorkie, is the ideal family dog for every household. He is magnificent in his long silky coat and cute size.

You should know that the Yorkie didn't become the second-most popular dog breed in the United States just by his looks alone. He's intelligent, playful, devoted, and can adapt to any living environment. When you see a Yorkie in all his glory, you can't help but adore him.
---
TEMPERAMENT OF THE YORKSHIRE TERRIER
• Affectionate; he wants nothing more than to be in the company of his family
• Devoted; he's ready to do anything to please his human
• Playful; he's very energetic and fun to be around.
---
PHYSICAL FEATURES
• Yorkies are very small dogs (one of the smallest around), and their ideal weight is about 7pounds.
• The ears are upright and triangular-shaped.
• Yorkies have long silky high-maintenance coats on which utmost importance is placed. For puppies, the coat color is black. However, adult Yorkies have somewhat multicolored coat designs, with a mix of colors like steel-blue, bright gold, and tan.
---
PERSONALITY AND BEHAVIOR
• Because of their compact size and loving personality, Yorkshire Terriers can adapt to apartment living. They are happy to remain indoors all day as long as they'll be provided with daily activities or play sessions in the living room.
• One thing you don't want to do with a Yorkie is to leave him alone. He doesn't like to be ignored or abandoned for a long time. If this happens, he's likely to develop separation anxiety, which comes with many negative behaviors.
• Yorkies are excellent watchdogs. He is suspicious of outsiders and wouldn't hesitate to show his displeasure. That is true with most terrier dog breeds. Also, Yorkies can be given to excessive barking if not adequately trained and socialized from puppyhood.
• Because of their delicate nature, Yorkies aren't suitable for households with toddlers. Instead, it would be better to own by families with older children who can adequately engage him without bringing him any harm.
---
SPECIAL CARES AND GROOMING
• The Yorkie's glamorous coat doesn't come without a price. If you're interested in this breed, get ready for the hard work or, better still, employ a professional groomer. Yorkie's hypoallergenic coat needs to brush daily to prevent matting.
• To ensure the coat is healthy and smooth, bathe and condition it regularly.
• Don't forget to keep up with daily teeth brushing as well. That is essential because, as with most small dogs, Yorkies are prone to dental problems.

If you intend to add this breed of dogs to your family member. You can find adorable Yorkshire Terrier puppies for sale near you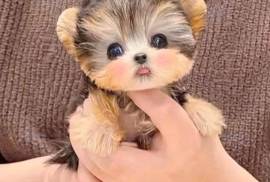 California

Los Angeles

$ 400