Siberian Husky for sale in USA | Animal Direct
FACTS ABOUT THE SIBERIAN HUSKY DOG BREED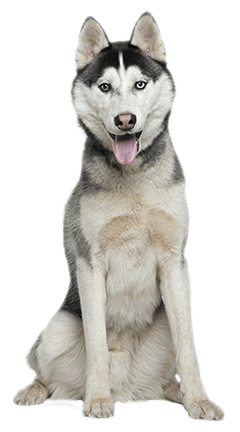 Are you looking for Siberian husky puppies for sale? The Siberian Husky is an original and wild breed of sled dog from the USA, whose appearance is reminiscent of a wolf. You will learn everything about these beautiful dogs' history, nature, attitude, and where to find Huskypoo for sale near you in this article.

The Siberian Husky is a working dog breed of Siberian origin, bred mainly for sled-pulling. The breed has a captivating wolf-like look that many people adore. Although similar in appearance to the Alaskan Malamute, the Siberian Husky is a separate breed of compelling characteristics.

He's a powerful, independent, and energetic dog who requires an equally firm leader. Otherwise, he might develop his ideas and live by his own rules. To anyone who can provide consistent training and the physical activity this dog breed requires, the Siberian Husky will remain a loyal companion and friend for life
---

TEMPERAMENT OF THE SIBERIAN HUSKY

• Intelligent; training him is very rewarding

• Affectionate; he wants nothing more than to be around his family

• Independent; usually set in his way
---

PHYSICAL FEATURES

• The Siberian Husky is a medium-sized dog that may weigh from 35 to 60 pounds and stand 20 to 23 ½ inches

• He has a pair of almond-shaped eyes and upright ears

• His deeply-furred tail is carried in an elaborate fashion

• The thick and adorable double-coat comes in various colors and patterns, with commonly seen colors being black and white
---

PERSONALITY AND BEHAVIOR

• The beautiful Siberian Husky has an independent nature, one that may be challenging for inexperienced owners. To be a successful Siberian caregiver, you need to be consistent and firm with obedience training. You must set rules and be patient with him to comply.

• Siberian Huskies are very affectionate dogs. They are not given aggressive behaviors and will get along with other dogs or pets if properly socialized and trained.

• The Siberian Husky, for all his charms, isn't a vocal breed. When faced with an intruder, he's more likely to give a welcoming howl than a threatening bark.

• Because Siberian Huskies have a high tendency to escape, they should be kept secure in a fenced yard while at home. Also, they should be on a leash when out in public
---

SPECIAL CARES AND GROOMING

• The Siberian Husky has high energy; therefore, it should be exercised for about 30 to 60 minutes daily. That would ensure that he doesn't get bored. Give your dog something to do because a bored Siberian Husky might become destructive. And this is something you do not want.

• You'd find feeding your Siberian easy as he doesn't eat much. Ideally, less than two cups of quality dry food is enough to get him through the day.

• Huskies are prone to shedding (especially during shedding seasons), so time must be dedicated to constant grooming. Give your dog's coat a reasonable daily or weekly brushing (depending on the season), and do baths only when necessary.
 
Where can I find a Siberian husky for sale?
Suppose you are looking for Siberian husky puppies for sale from a reputable seller or breeder. In that case, you can check Animal Direct. You can find cheap and affordable Siberian husky for sale near you.