Shih Tzu for sale in USA | Animal Direct
FACTS ABOUT THE SHIH TZU DOG BREED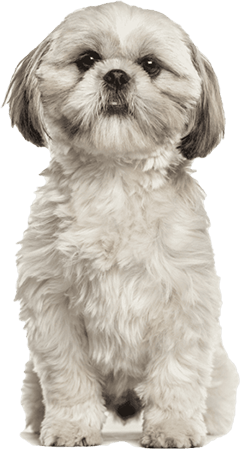 Are you looking for the Shih Tzu puppies for sale? Then keep on reading for more information about this breed of dog and where you can find the Shih Tzu for sale. Although it's a small feline, the Shih Tzu is an exceptional dog that attracts a lot of attention. Behind the long mane of the former temple, the guard is a playful four-legged friend with a head of its own, a loyal companion to many dog ​​lovers.

The Shih Tzu, literally meaning "little lion," is an adorable lapdog that belongs to the Toy Group. The breed was developed in Tibet, China, for the sole purpose of companionship. A function that fits the Shih Tzu only too well. With a beautiful long coat, regal bearing, and an elegant up-do, the Shih Tzu appears ready to welcome the Queen.

He is of noble origin and has a carriage that screams royalty. However, there's one thing that makes this dog breed irresistible. It has a cheerful personality and the ability to adapt to any environment, be it a palace, an apartment, or a condo. If you're looking for a family pet that's portable, sweet, devoted, and friendly, then the Shih Tzu is the dog for you
---

TEMPERAMENT OF THE SHIH TZU

• Loving; often seeking human affection and usually giving more in return

• Friendly; with a Shih Tzu, everyone is a potential buddy—even strangers

• Lively; an always cheerful nature is one of the major hallmarks of this bree
---

PHYSICAL FEATURES

• The Shih Tzu is compactly built, with a weight ranging from 9 to 16 pounds, and a height between 9 to 10 ½ inches.

• The head sports a pair of dark brown eyes, a short muzzle, floppy ears covered with dense fur, and a pronounced underbite.

• The tail is profoundly furred and carried well over the back.

• The silky double-coat of the Shih Tzu tends to reach the floor and is available in different colors, including gold, black, grey, or white
---

PERSONALITY AND BEHAVIOR

• The sweet and affectionate Shih Tzu needs a lot of love and gives more in return. They were bred to be nothing but companion dogs, and that's what they do best exactly.

• He's very good with children. But care must be taken when Shih Tzus are with kids because they have a delicate nature, which puts them seriously at risk.

• The Shih Tzu is a good watchdog, but that's as far as it goes. While he may be quick to alert you to the presence of a visitor, he is going to wag his tail and warm up to his "guest" the moment that person comes through the door
---

SPECIAL CARES AND GROOMING

• As typical in most flat-faced breeds, the Shih Tzu cannot tolerate high temperatures and so should be kept indoors always, especially during the summer.

• The Shih Tzu's long coat is prone to severe matting and should be brushed every day.

• Bathe your Shih Tzu every two to three months or when he gets messy. Keep in mind that regular bathing dries the dog's delicate skin.
 
Where can I find Shih Tzu for sale?
Suppose you are looking for Shih Tzu puppies for sale from a reputable seller or breeder. In that case, you can check Animal Direct. You can find cheap and affordable Shih Tzu for sale near you.