Poodle for sale in USA | Animal Direct
FACTS ABOUT THE POODLE DOG BREED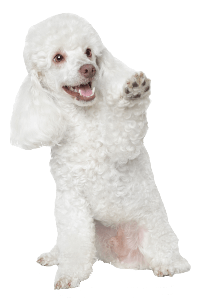 Are you looking for Poodles for sale? Due to its unusual appearance, it is one of the recognizable breeds. In the US, she is even called "The Rasta Dog" for the similarity to the Rastas hairstyles. Read on to find more information about this award-winning dog breed. 

The Poodle is a multiple award-winning dog breed that comes in three distinct sizes. They are regarded as the second most intelligent dogs because of their exceptional feats in dog sports and competitions over the years.

From a hunting history of water-retrievers, Poodles are highly perceptive and have keen alertness, making them excellent watchdogs.

As family dogs, they're very affectionate, and they show an all-round friendliness to everyone. That, coupled with their high intelligence, is why they're the seventh most popular dog breed in the United States.
 
---
TEMPERAMENT OF THE POODLE

Highly Intelligent: he's easy to train

Alert; he has a keen awareness of his surroundings

Affectionate; he's very fond of peopl
 
---
PHYSICAL FEATURES

• Bred in three distinct sizes (Standard, Miniature, and Toy), the Poodle is a well-proportioned dog with a square build.

• Toy Poodles are less than 11 inches tall; Miniature Poodles are from 11 to 15 inches tall, while Standard Poodles have a height of over 15 inches.

• The eyes are dark and oval-shaped, and the ears are long and folding.

• The hypoallergenic single-coat is dense, curly, and available in a myriad of colors, including black, white, grey, blue, cream, apricot, and brown
 
---
PERSONALITY AND BEHAVIOR

• The Poodle is an affectionate family dog who is fond of people. He is people-oriented, and he has a strong desire to please.

• The Poodle is loyal and protective of his family. His hunting instincts make him alert and aware of his environment.

• As a working dog, the overly active Poodle does not do well when left alone. It needs to exercise appropriately and well trained to burn off its naturally high energy. Else it'd get boring and use destructive ways to get the job done.

• With intelligence that's sometimes compared to that of humans, the Poodle is highly trainable. He has proven himself over the years as best in agility competitions and shows. However, it would be best to take care when engaging this dog as he doesn't do well with harsh treatments
 
---
SPECIAL CARES AND GROOMING

• Although Poodles hardly shed, they can be care-intensive. If you desire to show care to this dog breed, enlist a professional groomer's services to keep the coat looking beautiful and healthy. If otherwise, you may shave, brush and bathe your Poodle from time to time, and you're good to go.

• Because ingrown hairs can trap moisture and dirt, the Poodle's ears are prone to infections. Clean the dog's ears every couple of weeks with cotton and solution—also, little hairs growing in the ears from time to time to prevent irritation.

Where can I find Poodles for sale?
Suppose you are looking for Poodles for sale from a reputable seller. In that case, you can check Animal Direct. You can find cheap and affordable Poodles for sale near you.
No pet have been found.
Click
to add a a pet.