Pembroke Welsh Corgi for sale in USA | Animal Direct
ABOUT THE PEMBROKE WELSH CORGI DOG BREED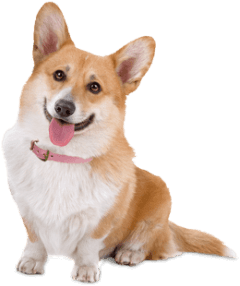 The Pembroke Welsh Corgi, also known as the Pembroke or Pem, is a work dog type that was bred to herd cattle in Pembrokeshire, Wales. Pembroke is one of the world's smallest herding dog breeds; it's the smallest in America.

And although Pems share certain similarities with the Cardigan Welsh Corgi, they're an entirely distinct dog breed. They're very affectionate, eager to please, and would adapt quickly to any home environment. Pems are excellent companion dogs for every family.

They're very active, quick on their feet, and vibrant. If you can provide the necessary attention and physical stimulation that this dog needs, you'll discover that you have a friend and companion who'd adore you for life!
---
TEMPERAMENT OF THE PEMBROKE WELSH CORGI
• Active; they are bursting with energy 
• People-oriented; they love to be with their family 
• Independent; they like to think for themselves 
---
PHYSICAL FEATURES
• Pembroke Welsh Corgis have a compact size. They stand at 10 to 12 inches and weigh no more than 30 pounds.
• The head of the Pembroke appears "fox-like" with oval-shaped dark eyes and erect ears.
• They have a dense double coat, medium length, with pronounced featherings on the ears, legs, and chest region.
• The weather-resistant coat usually comes with a "fairy saddle" as a result of lighter markings on either side of the withers. Available colors include red, sable, black, tri-colors, or fawn.
• Pembrokes sport a naturally short or docked tail.
---
PERSONALITY AND BEHAVIOR
• Pembrokes are affectionate dogs. They love to be a part of the family and often tend to follow their human everywhere. If you're considering this cutie, be ready to have a companion that'd never leave you no matter where you go—not even the bathroom.
• The Pems can adapt well to any environment, whether apartment, country, or city life if provided the required amount of physical activities that they need, 
• They'll do anything to please their family. You'll find training them very easy. Just say "jump" and watch how high they're willing to go.
• With a Pembroke around, you'll know everything that's going on in the house. For a pup this small, he's quite vocal and wouldn't hesitate to let you know when he sees anything. 
---
SPECIAL CARES AND GROOMING
• Because Pembrokes tend to overeat and get easily spoiled with treats, care must be given to their diets and daily exercise. They need to be walked for at least 30 minutes each day to stay healthy.
• It doesn't take much to groom a Pembroke, although they tend to shed more frequently, especially in the seasons. But if you'll keep up a daily brushing routine, you won't have a problem with dog hair all around the couch or on your favorite pant.
• Resist the urge to bathe your Pem too frequently. Give baths only when necessary to prevent his skin from drying out.

If you intend to add this breed of dogs to your family member. You can find adorable Pembroke Welsh Corgi puppies for sale near you
No pet have been found.
Click
to add a a pet.