Maltese for sale in USA | Animal Direct
FACTS ABOUT MALTESE DOG BREED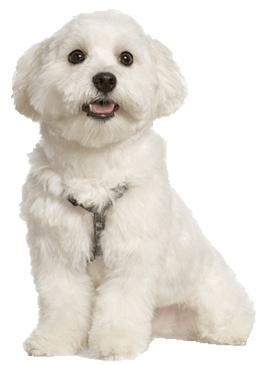 The Maltese are an adorable dog breed of compact size.

Make no mistake; there's more to the Maltese than his unique looks—he a charmer! In his snow-white fluffy coat, the Maltese breed is the perfect picture of sweet innocence. A spirited, energetic, and smart canine, the Maltese gives so much love to everyone he meets.

Although, there is no evidence to suggest the exact time Maltese dogs were developed or their connection to Malta. However, it is well-known that they were the popular companion dogs among the Greeks and Romans of the early years.
---



TEMPERAMENT OF MALTESE
• Lively; there's no dull moment with him
• Good-natured; he's so sweet and easy to get along with
• Fearless; he instantly believes everyone is a friend, so he has nothing to be afraid of.
---

PHYSICAL FEATURES
• The Maltese have a small size; he stands 8 to 10 inches and weighs from 2 to 8 pounds.
• The head features a cute black nose, drop ears, and brown eyes surrounded by a dark pigment that resembles a halo.
• The pure white coat is usually long and silky, with no undercoat.
---



PERSONALITY AND BEHAVIOR
• Calm and not prone to frequent shedding, the Maltese is mostly suited to apartment life. He's so easy to get along with that even new dog owners will find living with this cute pup effortless.
• The Maltese are happiest when he's provided with the necessary attention he needs. He doesn't like to be ignored or left alone.
• Although the Maltese aren't a vocal dog breed, he's prone to bark excessively when neglected by his human for too long.
• The Maltese are a sweet and affectionate companion dog who loves everyone—friends or foe. He is easy-going, good-natured, and friendly. His compact size makes it so easy for him to squeeze in everywhere around his people.
• Vibrant and full of energy, the Maltese will always find one activity or the other to engage in it. He loves to play, and he does very well with training, especially when he's offered treats or praised for a job well done.
---



SPECIAL CARES AND GROOMING
• Maltese is an active dog breed. Therefore it is essential to keep them busy indoors. They don't need much exercise, though; any indoor game or fun activity would do.
• Because a Maltese lacks an undercoat, he's prone to chills. Therefore you need to keep your Maltese warm at all times—especially at night or during winter.
• Grooming your Maltese would require a daily brushing of his lush coat as well as frequent bathing. This would ensure the fur stays clean, soft, silky, and generally healthy.

If you intend to add this breed of dogs to your family member. You can find adorable Maltese puppies for sale near you