Lhasa Apso for sale in USA | Animal Direct
FACTS ABOUT THE LHASA APSO DOG BREED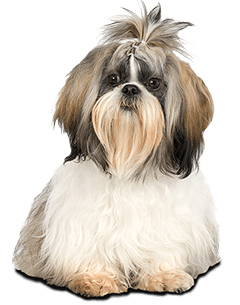 The Lhasa Apso is a small dog breed that originated from Tibet in China. This cute dog was used as a sentry in royal homes and monasteries to inform inhabitants about the presence of an intruder.

The name, "Apso" in Tibet, literally means "bark guard," which further validates his duty. Now, the Lhasa isn't just a guard dog; he's a delightful and affectionate family pup in whom you'll find loyalty, adoration, joy, and all that you ever desire in a furry companion.
---
TEMPERAMENT OF THE LHASA APSO
• Protective; he's the self-appointed loyal family guard
• Affectionate; get ready to be showered with so much love and devotion from this adorable pup
• Intelligent; he has a unique ability to reason.
---
• Lhasa Apsos weigh about 15 to 18 pounds and stand at 10 or 11 inches
• Most Lhasa Apsos have dark brown eyes, a black nose, and a tail that is carried over the back.
• The coat is lush, long, and is available in a wide variety of colors.
---
PERSONALITY AND BEHAVIOR
• For a pup this small, the Lhasa Apso has a big-dog attitude. He is fiercely loyal and often very protective of his family. The Lhasa believes that when it comes to defending his territory, nothing can stand in his way—not even his size.
• Due to his protective nature, the Lhasa may be suspicious of strangers, though he's not known to be aggressive with them.
• Most people find the Lhasa Apso independent. He isn't one to wait to be told what to do. He believes he knows what should be done, and he goes ahead to do it. That is why training him from puppyhood is of utmost importance. He needs to know who's in charge—and that's you!
• The Lhasa Apso is a very affectionate dog who gives so much love to every member of his family. He wants nothing more than to be a part of their day-to-day activities. And often, he makes himself at home on their lap, arms, or anywhere that'd ensure he's close enough for them to hold.
---
SPECIAL CARES AND GROOMING
• Lhasa's coat is incredibly beautiful. It's long and fluffy too. However, it requires consistent grooming to keep it looking pleasant. Maintain a daily routine of brushing his coat, and you'll have him always looking dapper.
• Due to the aesthetic nature of the Lhasa's coat, you may need to bathe him more frequently to make sure he looks and smells fantastic. However, be careful not to overwash him because that might dry out his skin.
• To properly trim your Lhasa's dense coat, you'd be needing a professional groomer.
• Maintain dental hygiene by brushing your Lhasa's teeth two to three times every week.

If you intend to add this breed of dogs to your family member. You can find adorable Lhasa Apso puppies for sale near you