Italian Greyhound for sale in USA | Animal Direct
FACTS ABOUT THE ITALIAN GREYHOUND DOG BREED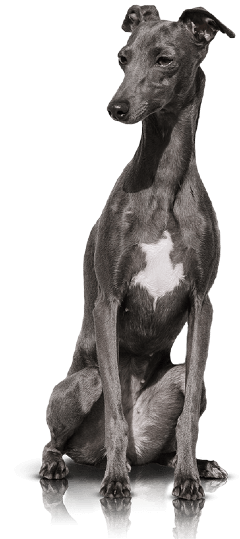 The Italian Greyhound is the smallest in the sighthound group. It was born and bred in Italy to serve as a human companion and sometimes to hunt small games.

His origin is one of nobility and royalty as he has delighted queens and princes for thousands of years. Although he is small, he has lots of love to give as a domestic dog.

He's very affectionate, sometimes possessive. And if you'll let him, he'll be the adorable furry companion you've always desired.
---
TEMPERAMENT OF THE ITALIAN GREYHOUND
Affectionate; he loves to snuggle close to his human

Sensitive; don't use harsh words on him; you could hurt his feelings

Alert; his hunting instincts always come to play
---
PHYSICAL FEATURES
The Italian Greyhound weighs about 11 pounds and stands 13 to 15 inches.
 

He is relatively tall, with long slender legs.
 

The head is small and attached to a long neck.
 

The short shiny coat of the Italian Greyhound is available in a myriad of colors like fawn, red, blue, black, and beige-yellow, among others.
---
PERSONALITY AND BEHAVIOR
Greyhounds are affectionate to their families. You'll often find them coming around you, snuggling close, and wanting to be a part of your daily activities.
 

Italian Greyhounds are sensitive and don't do well with harsh treatments. Therefore you'll find him easy to train if you introduce positive reinforcement techniques like offering treats and praise.
 

Italian Greyhounds adapt well to apartment living; their good nature and gentleness make them comfortable to be around. However, do not try to leave them at home for long hours during the day. If you won't be home, ensure there's someone around to keep their company.
 

For a canine of this size, the Italian Greyhound has a loud bark. That makes it an excellent watchdog that'll announce its presence to anyone who cares to listen.
---
SPECIAL CARES AND GROOMING
The Italian Greyhound is prone to cold because of his short coat. For this reason, he should be kept indoors, not outside—especially during chilly periods.
 

Keep your Italian Greyhound on a leash when going on evening walks. Because of its hunting instincts, it is likely to go off running after any small animal that catches its attention.
 

The Italian Greyhound's short glossy coat is easy to groom. All it takes is an excellent weekly brushing, and you'll have your Greyhound looking his ultimate best.
 

Bathe your Greyhound when he's messy or has a doggy smell.
 

Brush your dog's teeth two to three times every week to prevent dental disease and eliminate bad breath.
No pet have been found.
Click
to add a a pet.