Havanese for sale in USA | Animal Direct
FACTS ABOUT THE HAVANESE DOG BREED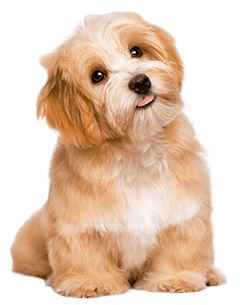 The Havanese is a small dog with a robust personality. He is admirable too—cute size, silky soft hair, good-natured, what's not to love? He was created in the 1800s in Cuban to be a companion dog—a job that he has taken very seriously.

Even now, he thrives best when in the company of his family and cannot handle being without them for too long. The Havanese is more than just a dog; he's love, energy, friendliness, loyalty all bundled up in a long silky coat of fur!
---
TEMPERAMENT OF THE HAVANESE
• Affectionate; he loves everyone without reservations
• Intelligent; he is known to do very well with training and particular tasks 
• Active; he is full of spirit and an abundance of energy
---
PHYSICAL FEATURES
• Most Havanese dogs have a body that is slightly longer than tall. They stand 9 to 10 ½ inches tall and weigh 10 to 16 pounds.
• The Havanese has a black nose and dark brown eyes surrounded by a black pigment
• The Havanese' tail is plumed and carried over back
• The double coat, which is naturally long, silky, and soft, is available in all colors and patterns like a fawn, red, black, white, among others.
---
PERSONALITY AND BEHAVIOR
• As an ideal family pet, the  Havanese has an all-around friendliness that's amazing. He's affectionate towards everyone, including children, other dogs, cats—even strangers. 
• For a dog this portable in size, the Havanese is very energetic. He's happiest when engaged in different sport and training activities like flyball, obedience, and agility.
• The Havanese is highly adaptable to any environment. His gentle and good nature make him easily adjust to any setting. For a Havanese, as long as he gets cuddled and petted, he'd fit right in.
• As a loyal companion dog, the Havanese thrives in human company. When left alone, the Havanese may develop separation anxiety. Therefore always ensure there's someone at home to look after him whenever you're away.
---
SPECIAL CARES AND GROOMING
• The Havanese have high energy, so he needs to be exercised daily. Virtually, a 30 to 45 minutes walk each day will do him just fine.
• The long coat needs to be brushed daily to prevent matting of hair.
• If you are not an experienced groomer, employ the services of one. Do not try to give your Havanese a "hair cut." You could mess up his coat, or do even worse.
• Keep the hair above his eyes tied up to prevent discomfort, and also for that cute "Havanese look."
• As a result of the cold-sensitive nature of the Havanese dog, it is advised to have him wear his coat longer during cold seasons to keep him warm.
• Brush your Havanese dog's teeth two to three times every week to discourage tartar buildup and bad breath.

If you intend to add this breed of dogs to your family member. You can find adorable Havanese puppies for sale near you
California

Gardena

$ 1,800