German Shepherd for sale in USA | Animal Direct
FACTS ABOUT THE GERMAN SHEPHERD DOG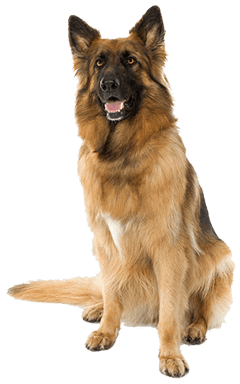 The German Shepherd Dog is a working dog breed created in Germany to herd sheep. They are strong, intelligent, and versatile, which is why they use extensively in the protection of lives and properties, detection of harmful substances, search-and-rescue, a guide for the disabled, amongst other notable duties. In recent times, German Shepherds, otherwise called Alsatians, have become famous in different homes as the favored guard dogs. They are loyal, affectionate, and often protective of their families. Now, they remain the second most popular breed in the United States.
---
TEMPERAMENT OF THE GERMAN SHEPHERD
Intelligent: he can understand and interpret issued commands quickly and effectively.
Protective: self-assured and alert, he is ready to defend his family against anything that will threaten their safety.
Obedient: he will obey every command, especially when he's properly trained.
---
PHYSICAL FEATURES
• German Shepherd dogs have a stocky frame, with an average weight and height of 69 pounds and 24 inches, respectively.
• The Head character is distinguished by a long muzzle, black nose, and large ears that stand erect.
• The tail is long and hairy.
• German Shepherds have a double coat, which can either be medium or long. Common color varieties include are; solid black, tan with a black saddle, and sable.
---
PERSONALITY AND BEHAVIOR
• Due to his protective tendencies, the German Shepherd makes for an excellent guard dog. Most of the time, his wolf-like physique is all it takes to make any intruder run for the hills. Other times, it's his deep "woo-woo" sound that reverberates several miles away.
• German Shepherd dogs don't like strangers but will be reserved or guarded around them. However, this behavior can be adequately modified if he's appropriately socialized from puppyhood.
• Do not leave an Alsatian alone to get bored; create time for dog activities with him. He's an active dog that requires constant mental stimulation and physical exercise to keep him healthy and generally well-behaved.
• German Shepherd dogs don't do well when left alone for too long. They tend to become frustrated. Therefore, they need to spend time with their family.
---
SPECIAL CARES AND GROOMING
• Because German Shepherd dogs have a high tendency for weight gain, it is necessary to pay close attention to their diets. To do this, maintain a high-quality, low-calorie diet and bring treats to a minimum.
• German Shepherds are heavy shedders, so they need to be brushed every two to three times a week to reduce shedding.
• Bath German Shepherds occasionally or only when necessary as frequent bathing tend to strip the coat of essential oil.

If you intend to add this breed of dogs to your family member. You can find adorable German Shepherd puppies for sale near you
No pet have been found.
Click
to add a a pet.