French Bulldog for sale in USA | Animal Direct
FACTS ABOUT THE FRENCH BULLDOG BREED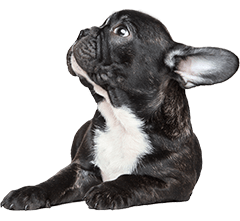 Are you looking for a french Bulldog for sale? The French Bulldog is one of the most popular dog breeds and is suitable for everyone. Whether for families, single people, or seniors - the intelligent dogs feel comfortable with everyone. Find out everything about the history, temperament, personality, and care of the French Bulldog.

The French Bulldog breed originated from France in the 1800s from crosses made between Toy Bulldogs and ratters. This Bulldog variant is a companion dog that is mostly loved by all. His portable size and amiable personality make him the ideal family dog for every household.

The French Bulldog is a charmer. If his innocent look doesn't draw you in, his even manners definitely will. There's hardly anyone the French Bulldog cannot get along with, not even strangers. All it takes is a sweet smile and gentle rub on the head, and they become his new-found best friend.
---
TEMPERAMENT OF THE FRENCH BULLDOG

• Patient; his even temper makes him get along well with kids of all ages. However, as with other dog breeds, adult supervision is recommended.

• Affectionate; despite his small size, this dog has a lot of love to give to everyone (not only his family). And he does this without fail.

• People-oriented, bred for companionship, the French Bulldog only thrives when he's around people. 
---
PHYSICAL FEATURES

• The French Bulldog is compactly built and can weigh up to 28 pounds

• Their large squared-head is defined by a flat face, large bat-like ears that stand erect, and skin folds called "wrinkles."

• The coat of a French Bulldog is short and delicate, with the colors being brindle, fawn, or cream.
---
PERSONALITY AND BEHAVIOR

• As a typical companion dog, the French Bulldog requires constant human interaction. Please don't leave him alone for too long. Else, he'll develop separation anxiety.

• French Bulldogs are easy to train. However, because of their soft personality, they tend to respond better to dog activities when positive reinforcement is employed.

• French Bulldogs hardly ever bark. Due to their quiet nature, they are well suited for apartment living.

• Because of their even-temper, French Bulldogs tend to do exceptionally well with children. However, it would be best if you did not leave the dog with kids unsupervised
---
SPECIAL CARES AND GROOMING

• Like other flat-faced dog breeds, French Bulldogs require a minimal level of physical activity. That is because too much physical exertion can lead to shortness of breath or heavy breathing.

• Regulate your dog's weight by going on daily walks and watching what he eats.

• The French Bulldog's short, fine coat makes grooming easy as all it takes is a weekly brushing routine with a soft brush.

• French Bulldogs should bathe occasionally only, and with a specially formulated dog shampoo, to keep the skin from over-drying.

• The creases between wrinkles should be checked and cleaned regularly as moisture and particles can get trapped inside.

Where can I find a French bulldog for sale?
Suppose you are looking for a French Bulldog for sale from a reputable seller. In that case, you can check Animal Direct. You can find cheap and affordable french Bulldog for sale near you. 
No pet have been found.
Click
to add a a pet.