Dachshund for sale in USA | Animal Direct
FACTS ABOUT THE DACHSHUND DOG BREED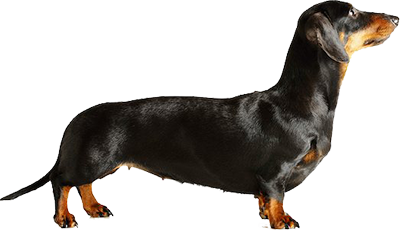 Dachshunds, literally meaning badger dogs, were developed by Germans to hunt badgers, foxes, mice, rabbits—sometimes even boars. As scent hounds, Dachshunds are capable of tracking down small animals burrowed deep under the ground, bringing them out from their hiding. These hunting dog breeds have a powerful sense of smell that no game can evade.

As long as it has a scent, please leave it to the Dachshunds to find. Due to their versatile nature, Dachshunds are now widely used in homes as companion dogs, showering their families with love and an unparalleled devotion. 
---
TEMPERAMENT OF THE DACHSHUND
Brave: Even as family dogs, they still show their hunting bravado now and then.
Clever: Show them what to do. Then relax, will do it.
Lively: They are vibrant and always a joy to be around.
---
PHYSICAL FEATURES
Dachshunds are a versatile breed; they appear in a wide range of colors, coat types, and sizes.
Size: In the United States, Dachshunds come in two primary dimensions, these are;
• Standard Dachshunds— Those that weigh between 16 and 32 pounds (as adults).
• Miniature Dachshunds— Those that weigh 11 pounds or less (at maturity). Dachshunds that are in between these two major categories, that is, those that weigh between 11 and 16 pounds, are called "Tweenies."

Body: The Dachshund has a dwarfed body that is slightly longer than it's tall.
Limbs: The legs are short, thick, and shaped like a paddle—well suited for burrowing.
Coat types: Coat may be smooth-haired, wire-haired, or long-haired.
Coat colors: Dachshunds may appear in a variety of color combinations, such as black and tan; blue and tan; chocolate and tan; red—with the most common coat color being red.
---
PERSONALITY AND BEHAVIOR
• Dachshunds are the right choice for apartment dwellers. They are most active indoors and do not require a lot of outdoor activities. Moreover, they have a small size, which means that they wouldn't get in the way or take up limited space.
• They are excellent watchdogs. With their loud barks, you'll be the first to know about any recent activity around your home.
• Dachshunds are affectionate. It isn't unlikely for a Dachshund to form a lasting bond with one individual. These cuties are a joy to be around. Their larger-than-life personality makes them well-loved by every member of the family.
• Dachshunds have a high prey drive. Therefore, you are likely to find them fascinated by birds, toys, and smaller animals. 
---
SPECIAL CARES AND GROOMING
The Dachshunds come in varying grooming options as a result of their differing coat types. Therefore, to groom a Dachshund, it's required that you should;
• Brush the smooth-haired Dachshund's coat once every week
• Brush the Long-haired and wired-haired Dachshunds every day to prevent the matting of hair.
• Brush your dog's teeth two to three times every week to prevent tartar buildup and eliminate bacteria.
• Trim your Dachshund's nails once or twice a month to avoid discomfort walking.

If you intend to add this breed of dogs to your family member. You can find adorable Dachshund puppies for sale near you