Cavalier King Charles Spaniel for sale in USA | Animal Direct
FACTS ABOUT CAVALIER KING CHARLES SPANIEL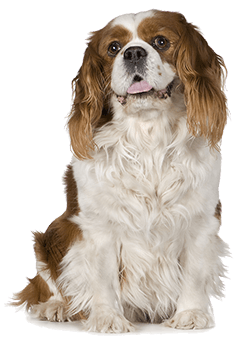 The Cavalier King Charles Spaniel is an adorably cute lap dog who wants nothing more than to be snuggled-up close with you. Although small in size, there is no limit to the pleasure and joy that he brings. He is a very affectionate dog that loves to be around family at all times.

So if you will like to have a furry companion who will give bring so much love and fun memories, then the Cavalier King Charles Spaniel might be best for you. The Cavalier King Charles Spaniel dog breed originated from the United Kingdom and was recognized by the American Kennel Club in 1995.
---
TEMPERAMENT OF CAVALIER KING CHARLES SPANIEL
• Intelligent: You'll find training them effortless
• Affectionate: They are people-pleasers, and they especially love to be petted and cuddled in return
• Sensitive: Try to teach him using positive reinforcement methods; He has a soft heart
---
PHYSICAL FEATURES
• Their coats may appear in varying colors like Blenheim, Black and Tan, Black/White/Tan tricolor, and Ruby.
• The coat is moderately long, with a silky feel
• There are pronounced "featherings" on the ears, legs, and tail
• Cavaliers are small dog breeds that usually weigh from 13 to 18 pounds and stand at 12 to 13 inches.
---
PERSONALITY AND BEHAVIOR
• Because of his general soft spot for people, he might not be suitable as a watchdog. He is, at best, a companion dog who welcomes every guest with a wag of his beautiful tail.
• Cavaliers thrive best when around their families. They do not like being alone for too long, so always ensure your dog has company during the day while you're away
• He is friendly towards strangers, unlike most other dog breeds who meet every unfamiliar person with a reserved demeanor.
• Cavaliers have an undeniable love for children. They see kids as adorable, and they'll spend time trailing after them or snuggle up with them on the couch.
• True to their sporty nature, the Cavaliers enjoy numerous fun activities and dog sports such as running, hiking, agility and flyball. So be sure to keep up!
---
SPECIAL CARES AND GROOMING

 
• Cavalier King Charles Spaniel are average shedders. Therefore daily brushing of their coat is necessary to discourage matting.
• Trim your Cavalier's nails two times every month.
• Bath a Cavalier only when necessary. Keep in mind that constant bathing dries every dog's skin and endangers their health.
• Ensure your Cavalier dog gets a minimal level of daily physical activity to keep him fit

If you intend to add this breed of dogs to your family member. You can find adorable Cavalier King Charles Spaniel puppies for sale near you
No pet have been found.
Click
to add a a pet.