Boston Terrier for sale in USA | Animal Direct
FACTS ABOUT THE BOSTON TERRIER DOG BREED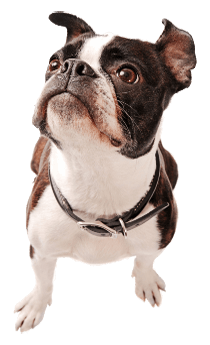 If there's any dog breed that can effortlessly blend formality with friendliness, it's the amiable Boston Terrier. Born and bred in the United States, this dog is the true American Gentleman. His character is refined; his attitude is pleasant. And when he finally becomes a member of your family, you'll realize that there's no gentleman as perfect as he is. Although he is relatively small in size, a glance at him will let you know he will take very seriously.
The Boston Terrier, as his name suggests, was developed in Boston in the early 1870s. His ancestry can be traced back to a Bull and Terrier dog breed called Hooper's Judge. Although now significantly modified, the Boston Terrier created to be a fighting dog. In 1893, he was recognized by the American Kennel Club as the first Non-Sporting dog breed in the United States.
---
TEMPERAMENT OF THE BOSTON TERRIER
Gentle: Unlike most Terrier breeds, he rarely barks. His refined character makes him ideal for apartment dwellers
Friendly: His easy-going nature makes him get along with everyone, including other pets, if given early socialization
Protective: His fighting instincts, although refined, tend to make him protect his territory from perceived invaders or intruders.
---
PHYSICAL FEATURES
The Boston Terrier has a portable frame. He stands at 9 to 15 inches and weighs about 6 to 25 pounds.
His ears are upright, giving off the appearance of a dog that is always at alert.
He has a short muzzle and tail.
His eyes are large and round
His short coat is smooth and has a glossy feel.
The Boston Terrier may appear in a shiny black, brindle, or seal marked-coat.
---
PERSONALITY AND BEHAVIOR
The Boston Terrier loves human company: As a companion dog, he loves to be around his human family. He also loves to be involved in all family activities.
He is friendly and outgoing: This dog is not one to bark incessantly at anyone he considers a stranger. His gentlemanly personality is most evident when he is around people—even those he barely knows.
He is eager to please: Talk about a gentleman to the core. This canine is interested in making his human companion happy. And he'll do just about anything, all you need do is ask.
He is easy to train: Because of his desire to please, he takes instructions quite well. However, you should train your dog extensively and early.
---
SPECIAL CARES AND GROOMING
Boston Terriers have a moderate energy level, so a few minutes of walk every day would do them just fine.

Boston Terriers have short, sleek coats that require low maintenance. Usually, with a quick brush-through every week, you can be well on your way.

Bath dog every two to three months or only when he develops a doggy smell

Brush your dog's teeth two to three times a week to keep his gum health and prevent bad breath.

If you intend to add this breed of dogs to your family member. You can find adorable Boston Terrier puppies for sale near you