Bernese Mountain for sale in USA | Animal Direct
FACTS ABOUT THE BERNESE MOUNTAIN DOG BREED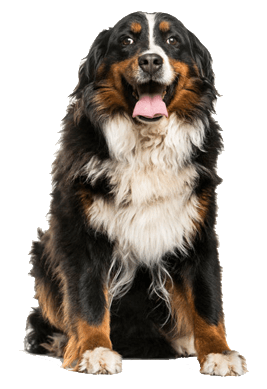 The Bernese Mountain dog, otherwise known as the Berner, is a heavy dog breed. It was initially created in Switzerland to serve as a working dog. Berners are versatile, and they take their work very seriously. Their large body size was put to good use when performing various farm activities like pulling carts and herding cattle. Presently, they serve mostly as loyal companion dogs with a great eagerness to please.

The Bernese Mountain dog was originally bred to do farm work. They were fondly called Cheese Dogs because farmers used them often to drive carts that carry milk and cheese. This breed is believed to be a descendant of the Roman Molosser.

However, the exact year in which the Berner was created is not clear. The dog gained popularity in the early 1900s and became a registered breed. And in 1937, they were recognized by the American Kennel Club as a working dog breed.
 
---
TEMPERAMENT OF THE BERNESE MOUNTAIN DOG
• Berners are often good-natured dogs
• They are intelligent, as they excel in conformation and obedience training
• They are usually affectionate dogs with an eagerness to please
---
PHYSICAL FEATURES
Here are notable features that can be seen in the Bernese Mountain Dog:
• Large size: The Bernese Mountain dog is a stocky dog breed. It stands 23 to 28 inches tall and may weigh from 70 to 115 pounds
• Coat: It has a long double-coat 
• Colour: It is usually tricolored; with featured colors being black, rust and white
• In most cases, there is the impression of a white Swiss cross on the chest
---
PERSONALITY AND BEHAVIOR
• Berners are super friendly dogs. However, they need lots of activities to keep them that way.
• They are loyal, often protective, and usually non-aggressive 
• They generally are kid-friendly dogs
• They're very easy to train. Early training and socialization is highly recommended to get a generally well-behaved pup
• They serve as excellent watchdogs 
• As working dogs, they may not be well-suited to apartment living because of their need to stay active
 
---
SPECIAL CARES AND GROOMING
Because Berners shed heavily, more effort is required for their grooming. Here's how to take care of the Bernese Mountain dog:
• Regular brushing of the coat to discourage shedding and matting. Also, keep in mind that regular brushing removes dead hair and improves oil circulation on the skin
• Weekly cleaning of ears to prevent infection, as bacteria, moisture, and dirt can get trapped inside the ear
• Occasional baths to keep the coat healthy and neat. Overzealous baths can be too harsh on the dog's skin.

If you intend to add this breed of dogs to your family member. You can find adorable Bernese Mountain puppies for sale near you
No pet have been found.
Click
to add a a pet.