Alaskan Malamute for sale in USA | Animal Direct
FACTS ABOUT THE ALASKAN MALAMUTE DOG BREED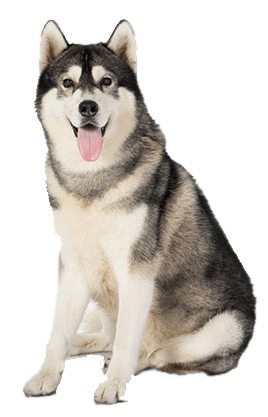 North Pole king likes cold weather. It has strong bones, and it is a leader, thus why should train it as a puppy so it can be funny and can be friendly. If you are looking for a dog that is as powerful as it appears, it's none other than the Alaskan Malamute. Generally not being a fast dog, the Malamute is mostly bred for its endurance and agility.

As a member of the famous Spitz breeds, this husky canine used initially for work purposes like freight hauling. Now mostly home-bred, this double-coated husky dog has taken to being an adorable pet and canine companion to different families. 

The Malamute originally bred in the Alaska region. The history of the Alaskan breed can be traced back to 1896 when gold miners came to Alaska for a search and rescue mission.
This breed is similar to the Siberian husky. 
---
TEMPERAMENT OF THE ALASKAN MALAMUTE
Why is specific dog breeds different?
Just like humans, canines aren't all similar in behavior and attitudes. These differences owe to the varying temperaments of each dog breed. And of course— dog training!
The Alaskan Malamute has a quiet, powerful, and enduring personality.

Adapts quite well to apartment living

Might not be ideal watchdogs as a result of its soft nature

Very affectionate around family and friends

Tolerates cold weather rather well
---
PHYSICAL FEATURES
The Malamutes are a substantial breed with impressive qualities that include:
Fairly, massive bodyweight that could reach 100 pounds or more.

Has an average height of about 25 inches

Small, wedge-like ears

A heavy or double coat

Snow-shoe feet

A deeply-curled tail that mostly carried over back.
As arctic animals, these dog breeds can use these features to keep warm even during harsh weather conditions.
---
PERSONALITY AND BEHAVIOUR
The Alaskan Malamute breeds are kid-friendly dogs that are easy to manage:
They are quite active: The Alaska Malamute has a high potential for playfulness, and as a new pet owner, you can assure of exciting playtimes.

Can be used for moving heavy weights over short distances

They are suitable for recreational activities such as weight pulling.

They tend to howl rather than bark: The Malamute breeds are not quite vocal creatures as they rarely make much sound. Therefore, rather than bark, they are more likely to howl like a wolf instead.

The high prey drive of the Alaskan Malamute is responsible for its common hunting of smaller animals.

The Malamutes are a calm breed. That is why mostly used in animal therapy for humans.

Its litter size is between 4 to 10 puppies.

The Alaskan Malamute's lifespan is about 16 years.
---
SPECIAL CARES AND GROOMING
Caring for The Malamutes are quite quickly:
Baths can be less frequent, depending on the level of exposure and activity of the dog.

Double-coat can be all smoothened out and shiny by simply brushing with a bristle brush.

You may add a chamois for extra shine, but that is entirely optional.
---
GENERAL HEALTH
As one of the dog breeds that live the longest, the Malamutes are quite a healthy breed. However, several cases of cancer, skin problems, and hip dysplasia are seen in some cases. As a result, health-conscious dog breeders would do well to ensure the following:
Regular exercise

Periodic medical checks

Adequate balanced diet

If you intend to add this breed of dogs to your family member. You can find adorable alaskan malamute puppies for sale near you
No pet have been found.
Click
to add a a pet.